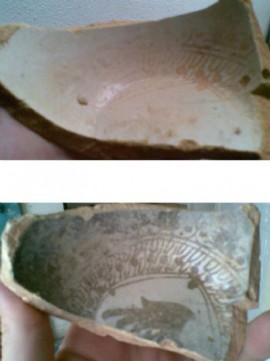 Arturo Mora researches and recovers decorations of original pieces of the 16th century after subjecting them to reduction firings again.
In these photographs we can see a fragment of "escudella" of the 16th century found in the sadly vanished Obradors neighborhood in Manises. After a very detailed research, the fragment is subjected to a new reduction firing, being able to notice again the decoration which was practically disappeared before.
During 2012 our target will be the recovery of some little original pieces of the 15th and 16th centuries, either showing the pieces that can only be found in exclusive museums or those ones that haven't been made so far.
Related News